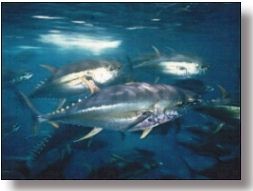 If you know of a link you would like us to add, find a broken link, or have any suggestions , please e-mail us at the e-mail address at the bottom of the page.
Allcoast Sportfishing Saltwater Fish Report - Very Comprehensive, updated daily. Southern California
Amigos de Baja's Fishing Reports - Up-to-date fishing reports for the entrire Baja Peninsula, both the Pacific and Sea of Cortez sides.
Florida Fishing - Daily fishing reports from the east coast of Florida and a live video feed of the Intracoastal Waterway makes this the most up to date resource for Florida Fishing available anywhere!
New Jersey Fishing Reports - NJ Fishing Reports covering the Rivers, Bays, Surf, Ocean and Offshore Canyons.
Worldwide Fishing Reports - Updated frequently.
Mojo's Surf Fishing Page - Surf fishing the outer banks of North Carolina; weather, fishing reports, links, more.
Anyboat Fishing Reports - Newport Rhode Island fishing reports